Telepsychiatry for
Forensic Evaluations
What is Forensic Psychiatry?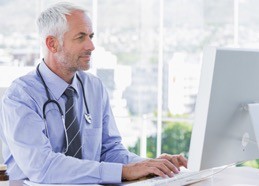 Forensic Psychiatry is a branch of medicine at the intersection of psychiatry and the law. Forensic psychiatrists are often hired by lawyers and judges to act as as expert witnesses for both criminal and civil cases. They conduct psychiatric evaluations and offer opinions about how mental health issues relate to the case. Forensic psychiatrists can also be utilized as consultants to other doctors or administrators of organizations.
Forensic psychiatrists are in short supply, and it is often difficult to find one close by. Geographical distances can cause evaluation delays and can involve expensive travel costs.
Forensic Telepsychiatry
In many cases, forensic evaluations and testimony can be accomplished remotely, via videoconferencing. Forensic telepsychiatry makes sense, and it saves time and money. Attorneys and judges are increasingly accepting the concept of forensic telepsychiatry as a convenient and effective way to utilize expert testimony.
Orbit Health can provide teleforensic experts to help sort through the following forensic issues:
Competency to Stand Trial
Insanity Defense/ Criminal responsibility
Civil Commitment/ Involuntary treatment
Guardianship
Competency to Make Treatment Decisions
Worker's Compensation and Torts
Disability
Violence Risk Assessment
Child custody and visitation
Psychic injury
Mental disability
Malpractice
Juvenile justice
Here's how it works:
Identify a small confidential area in your forensic setting that has internet access, a desk, and a chair. We will place a video screen there and provide psychiatrists via high quality videoconferencing technology. We can use the facility's existing computers or devices to stream a connection over a web based telepsychiatry platform. Alternatively, we can provide a portable device that is dedicated to telepsychiatry and is always on. The technologies we use are specifically designed for telehealth encounters and are HIPAA compliant.
When the subject of the forensic evaluation is ready to be seen, our telepsychiatrist will appear on the screen to conduct an expert evaluation. Forensic evaluations may be recorded if given permission from the subject's attorney or by direction of the judge presiding over the case. Otherwise, the session will not be recorded. After the session(s), the telepsychiatrist will prepare his/her forensic report.
Contact Orbit Health today to learn more!