Telepsychiatry for Skilled Nursing Facilities and Assisted Living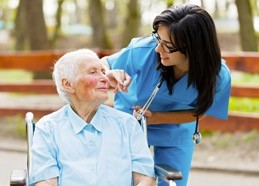 In order to function efficiently and effectively, skilled nursing facilities and assisted living homes must identify and address the mental health issues of their patients and residents. Yet, many such facilities have trouble finding appropriate, scalable mental health coverage. Oftentimes, simple issues are handled by costly and dangerous transport of patients to emergency rooms and doctor's offices. Wouldn't it be great to have a psychiatrist available on-demand?
Here's how it works:
Orbit Health provides telepsychiatrists at the patient's bedside via high quality videoconferencing technology. From the patient's perspective, there is little difference between an appointment with an onsite psychiatrist and that of a telepsychiatrist. The doctor reviews the medical record, meets with the patient, and submits the clinical documentation directly into the electronic medical record. Telepsychiatrists can write orders and prescriptions. The psychiatrist can even meet with members of the staff and family via videoconferencing.
The technology we use has high-resolution audio and video. Very quickly, the patient is immersed in the appointment and forgets that he or she is talking with someone through the computer.
We can use your existing computers or devices to stream a connection over a web-based telepsychiatry platform. Alternatively, we can provide a portable device that is dedicated to telepsychiatry and is always on. The technologies we use are specifically designed for telehealth encounters and are HIPAA compliant. Clinical encounters are not recorded.
What are the advantages of Orbit Health Telepsychiatry?
Avoiding the cost and danger of unnecessary transport of patients
Participating in treatment team meetings and consultation with onsite staff
Increasing patient well being and family satisfaction
Keeping fragile patients stable and improving patient outcomes
Reducing costs of recruiting, hiring, managing and retaining onsite mental health staff
Providing scalable and on-demand telemental health services
Mental Health that Revolves Around You
The greatest strength of Orbit Health is that we tailor our services to meet the unique needs of your facility. We make sure that the videoconferencing interfaces look and feel right for the environment, and are not bulky or overbearing. We will provide ongoing technical support to make sure the connection is reliable.
We also give you options for telepsychiatry coverage. Choose on-demand psychiatrists for unexpected patient issues or decide on a regular clinic schedule. If there is another way you need coverage, we'd like to know. We strive to find the solution that works best for your clinic.
Orbit Health only hires team-oriented psychiatrists of the highest quality. Our goal is to advance the treatment goals through great interdisciplinary collaboration. We will work hard to make sure our psychiatrists interact collaboratively with onsite staff and are sensitive to patients' families. We won't rest until you are 100% satisfied our telepsychiatry services.
Contact Orbit Health today to learn more!