Telepsychiatry for Emergency Departments and Crisis Centers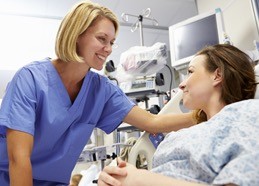 Patients presenting in crisis need treatment quickly. Long delays to see a psychiatrist can result in worsening mental health conditions and disruption to emergency rooms and crisis centers.
Orbit Health Telepsychiatry can help:
Here's how it works:
Orbit Health provides telepsychiatrists to your ED via high quality videoconferencing technology. To the patient, this is no different than having an onsite psychiatrist. The doctor reviews the medical record, meets with the patient, and submits the clinical documentation directly into your electronic medical record.
The technology we use has high-resolution audio and video. Very quickly, the patient is immersed in the appointment and forgets that he or she is talking with someone through the computer.
We can use your existing computers or devices to stream a connection over a web-based telepsychiatry platform. Alternatively, we can provide a portable device that is dedicated to telepsychiatry and is always on.   The technologies we use are specifically designed for telehealth encounters and are HIPAA compliant. Clinical encounters are not recorded.
The ED does not necessarily need to be designed for telehealth encounters. We can use almost any room or office as long as there is an internet connection.
What are the advantages of Orbit Health Telepsychiatry?
Providing immediate care to patients
Reducing overcrowding
Reducing wait times
Improving patient satisfaction
Improving patient outcomes

Reducing the cost of recruiting, hiring, managing and retaining onsite staff
Matching the right amount of staff to the services needed at any given time

Reducing unnecessary admissions and decrease the need for 1:1 observations
Mental Health that Revolves Around You
Emergency departments get busy, and often need help managing the mental health cases. Therefore, we recruit and hire telepsychiatrists who are not afraid to take charge of the clinical care and make tough decisions. Our telepsychiatrists not only evaluate and diagnose patients, they also write medication orders and make admission/discharge decision. Our goal is to provide much-needed relief to the onsite emergency room physicians.
We also take pride in tailoring our services to meet the unique needs of your emergency room. We make sure that the videoconferencing interfaces look and feel right for your clinic, and that they are a good match with your existing infrastructure. We will provide ongoing technical support to make sure the connection is reliable.
Orbit Health only hires team-oriented psychiatrists of the highest quality. Our goal is to advance the treatment goals through great interdisciplinary collaboration.   We will work hard to make sure our psychiatrists are a good fit for your team. We won't rest until you are 100% satisfied our telepsychiatry services.
Contact Orbit Health today to learn more!