Correctional Telepsychiatry Works!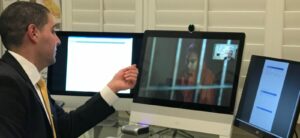 Telepsychiatry has been shown to be an effective mode of patient care delivery in jails and prisons.  Psychiatry staffing shortages nationwide are impacting the ability of correctional facilities to provide sufficient psychiatric care to inmates.  However, telepsychiatry has helped alleviate the staffing shortages.
There are some unique advantages of telepsychiatry over onsite care in jails and prisons, including independence of decision making and freedom from pressures inherent with the jail and prison work culture.  In addition, telepsychiatry is an attractive option for providers who want to avoid some of the less pleasant aspects of working in a jail or prison.  Inmates and staff typically embrace telepsychiatry once they have some exposure to it.