How To Implement Telepsychiatry Services For Your Emergency Department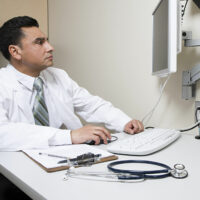 You're a healthcare administrator who's in charge of an emergency department. You're tasked to improve the patient experience and reduce costs at the same time. 
And you've noticed that several psychiatric patients have been waiting to be admitted or transferred for days.
More and more patients with psychiatric emergencies are waiting in emergency departments to be served. Isn't there a way to improve mental health specialty care?
What issues do emergency departments face when it comes to providing mental health care and crisis stabilization?
Your emergency department might face patients in acute mental illness crises: those in danger of suicide, those in danger to others, or perhaps unable to care for themselves due to a mental condition. And these can happen any time of day — necessitating 24/7 provider availability.
Emergency departments, especially those in rural areas,  often do not have access to psychiatry consults or mental health specialists who can further evaluate, intervene, triage, and arrange for timely disposition. Emergency departments that discharge patients who have not been properly evaluated may face legal liability if there is an adverse outcome. 
Therefore, when psychiatrists are not readily available, patients often end up waiting for days until such services are available — the term for this is patient boarding.
Patient boarding occurs when there's a delay in throughput. In this case, psychiatrists or nurse practitioners aren't available to provide specialty consultation at the right time. A reason for this is that traditional face-to-face providers may work limited hours — particularly in low-volume EDs. ED boarding can also happen if there are too few specialty psychiatric health facilities available. This translates to long waits for patient care, patient transfers, and hospital beds.
Having quick access to psychiatric experts — through telepsychiatry — can lead to decreased lengths of stay, increased patient & staff satisfaction, and improved outcomes.
How long do psychiatry patients end up waiting in the emergency department?
When EDs are not able to provide timely mental health care, patients are forced to wait for an average of two or more days.  With each passing day, their frustration grows and their mental health condition worsens.  
In addition to needlessly suffering in the cold hallways of the ED, patients with mental conditions often occupy the time and energy of staff while disrupting the normal functioning of the ED.  Lengthy exposures to challenging patients can take a toll on the morale of ED staff.  
In addition to the human toll, delays in care result in thousands of dollars needlessly wasted.  One study averages the wait cost at over $2,000 for an ED bed. These costs have the potential to escalate even further, when taking into account the cost of sitters and security for patients thinking of suicide or homicide. In short order, mentally ill patients boarding in the ED can blow a hole in the hospital budget. 
How many emergency departments use telepsychiatry?
Telepsychiatry is not new: in fact, it's been around for decades since the 1950's. It's now becoming more mainstream as more urgent care centers, crisis stabilization units, and EDs see the value in having on-demand video consult systems in place for psychiatric services. 
The Emergency Medicine Network surveyed 4,507 EDs, and found that 18% used this new way of delivering behavioral health — and that number is growing. Emergency departments are familiar with the use of telehealth for other specialties, such as stroke assessment by neurologists.
In addition, telepsychiatry has equivalent outcomes to in-person face-to-face care. (healio.com) In fact, the National Institute of Mental Health (NIMH) has backed telehealth as a way to improve access for mental health and suicide prevention consults 
Why should EDs implement telepsychiatry?
Researchers published in the American Journal of Emergency Medicine find numerous benefits for ED telepsychiatry: 
"The development of novel patient platforms such as telemedicine may offer an innovative approach to mental health care in the ED that may optimize and improve patient outcomes while also helping to reduce challenges such as ED overcrowding and limited specialist availability." (in Health Leaders Media)
Telepsychiatry can especially be suitable for under resourced settings, EDs with low patient volume, communities with fewer healthcare specialists — and preserving personal protective equipment (PPE) in a time of the COVID-19 coronavirus pandemic, as no in-person contact is required.
Telepsychiatry provides more timely assessments, shortens wait times, improves patient outcomes, and frees up ED beds to keep patient flow going — thus, can be more efficient than waiting for a face-to-face consultation. And, having telepsychiatry available can boost patient satisfaction metrics. This will help encourage customers to come to you first — instead of your competitors' urgent care centers.
What does it take to implement telepsychiatry in the emergency department?
Telepsychiatry — and all of telemedicine — is now seen as a "virtually perfect" solution providing "rapid access to subspecialists" amidst the COVID-19 coronavirus pandemic, disaster medicine settings, and beyond (New England Journal of Medicine 2020).
EDs can create telemedicine services from scratch, but there can be costs for telehealth implementation. Costs for getting psychiatrists not only include human resources (HR) time, but also hiring recruiters, recruiting firms, relocation incentives, and bonuses, along with additional training time.
Locums tenens firms can provide contracted providers at a moment's notice, but many firms do not specialize in telehealth. Thus, they may lack technology and telemedicine expertise.  Also, they are only a matchmaking service.  Unlike Orbit Health, they do not stay with you for the long haul to coordinate services and provide backup support for unexpected circumstances. 
What equipment would your ED need for telepsychiatry? A telemedicine cart — composed of a webcam-equipped computer-on-wheels or workstation-on-wheels — will link your patients with a mental health care provider. This telemedicine cart needs high-speed Internet connectivity for telehealth services.
A more straightforward solution: Orbit Health. Partnering with Orbit Health is a faster way to implement telepsychiatry services than building your own services from scratch. Orbit Health provides telepsychiatry for facilities across the United States, with board-certified physicians and nurse practitioners licensed in all 50 states.
Ready-to-go, turnkey telepsychiatry solutions can solve your emergency department's psychiatrist shortage
For years, Orbit Health providers have delivered countless telehealth consultations to patients in crisis and those with urgent mental health concerns.  Working with Orbit Health makes it easy to ensure psychiatry coverage of your emergency department or hospital. We will guide you and your team through the process of starting a mental health telemedicine program for your facility:
Preparation:

Technology design, background checks, training, licensing, credential checks, clinician malpractice insurance

Implementation:

Workflow setup, technology implementation, and planning customized to your needs

Operation

: Scheduling, performance measurement, quality improvement, and staff supervision & engagement
Orbit Health's industry leading network of telepsychiatry providers can meet any staffing challenge.  We can quickly  customize a telepsychiatry program that meets your ED's workflow — and become an integrated, essential team member with your ED physicians and staff.
Reduce wait times, increase patient access, streamline patient transfers, and improve service delivery with Orbit Health's ready-to-go integrated telepsychiatry solution.