Biggest Challenges to Practice When Implementing Telepsychiatry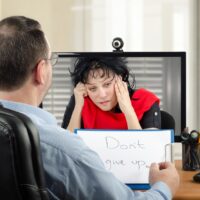 Telepsychiatry is not just the future of medicine; it's already here. Hospitals and medical offices around the country are implementing telepsychiatry practices in order to expand service offerings to patients. Healthcare providers benefit from increased patient satisfaction and revenue, while patients benefit from increased access to desperately-needed mental health care. With new technology and new systems, however, come new challenges. Below, the seasoned telepsychiatry experts at Orbit Health discuss a few of the biggest challenges faced by new telepsychiatry providers as well as solutions to these common problems.
Data Security Concerns
Telepsychiatry, by definition, requires sharing information across networks. Patients and local providers must share information with the remote practitioner, including patient records and data as well as the actual audio-visual telecommunication sessions. It's of vital importance to keep patient data secure both during transmission and generally in storage. Unfortunately, several recent cyber-attacks across all industries, including the healthcare industry, have undermined the public's confidence in data security generally. Providers who fail to protect patient data, moreover, can face penalties to their practice under HIPAA as well as liability from patients directly.
The solution is to maintain best practices when storing and transmitting patient data. Utilize appropriate firewalls and safety protocols, and ensure your staff is properly trained on the preservation of patient privacy. When implementing a telepsychiatry practice, work with a seasoned telepsychiatry partner whose systems are designed with patient data security and HIPAA compliance in mind. Assure your patients and professional partners that you are doing your utmost to protect private patient information.
Technical Issues
With any new technology comes a host of technical hiccups, and telepsychiatry is no different. Providers working to implement telepsychiatry face issues with the transmission of patient data, sharing diagnostic results, as well as internet connectivity issues when conducting clinical telepsychiatry sessions. These problems are more acutely felt by practitioners who take only minor steps to build out their telepsychiatry practice, relying on general consumer video-conferencing software such as Zoom and FaceTime.
While the federal government and medical boards have permitted the use of standard video conferencing software in order to increase access to telemedicine during the coronavirus pandemic, this was never meant to be a permanent arrangement. Working with a proper telepsychiatry partner with proprietary software can alleviate many of the video-conference technology problems, as well as provide infrastructure and technical support for all other technological issues.
Adjustment to Workflows and Other Implementation Issues
When implemented poorly, adding a telepsychiatry practice can interrupt workflows, create redundancies, and put added stress on administrative staff and colleagues to learn new systems. Care providers and patients can be resistant to change specifically to avoid these hurdles. However, it's important to keep in mind a fundamental truth: Telepsychiatry is not a separate area of practice; it is a medium for the provision of psychiatric care. Whether you are expanding your psychiatry practice to offer services via telepsychiatry or adding tele-psychiatric care to your hospital or medical office, maintaining that mindset can help to alleviate many of the growing pains.
Additionally, a telepsychiatry partner like Orbit Health offers more than telecommunication software. Your telepsychiatry partner can help you build out your telepsychiatry practice from the ground up, training existing staff, appointing area leaders, identifying pain points, and isolating areas where new staff is needed. If the architecture of your telepsychiatry infrastructure is well-conceived from the start, you can avoid much of the hassle faced by less efficient programs.
If you are a healthcare provider or employer who would benefit from a variety of experienced, licensed, and accessible psychiatric care specialists, reach out to Orbit Health to discuss your options for telepsychiatry today.