What to Expect in an Initial Consultation With an Expert Witness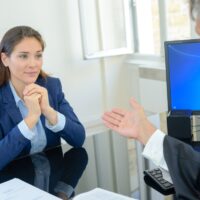 A licensed, qualified, and experienced psychiatric professional can be an invaluable asset to civil litigation or criminal prosecution. After conducting your search for an appropriate expert to bolster your case, your initial consultation will be your first chance to sit down with the proposed expert and find out whether they will provide your case with what you need. With the help of telepsychiatry, that meeting can be conducted from the comfort of your office, without the need for expensive and time-consuming travel on either end. Below, our forensic telepsychiatry experts discuss what you can expect during your initial consultation with a potential expert witness.
Information That an Expert Will and Will Not Provide in Your Initial Consultation
During your initial consultation with your possible expert, you will be working to determine if the expert is a good fit for your case. The focus on the initial consultation should be an evaluation of the qualifications, experience, and overall fitness of the potential witness. The initial consultation should also cover what you expect from the expert should they be retained. The initial consultation is not about getting a draft opinion prepared.
In your initial consultation, you can expect the potential expert to share a variety of information, including:
The expert's qualifications, including education, publication, and experience in the general field
The witness's expertise in the particular issues at stake in the case
Whether they have any case-related conflicts that would prevent them from participating or testifying. They will provide a simple yes or no regarding conflicts and are unlikely to identify the specific conflicts should they discover one.
The expert's rate structure, depending on the requested tasks
They may provide an initial impression of the opposing experts, should opposing counsel have experts already retained
The expert may also provide a general first impression of the case, but they will not provide a draft opinion or go into detail about their potential testimony.
Do not expect to have a final answer about the expert's opinion in the initial consultation, especially if you will call upon them to conduct any evaluations, tests, or other research.
What You Should Provide to Your Potential Expert Before and During the Initial Consultation
To make your initial consultation productive, it is helpful to provide the proposed expert with a copy of the pleadings in advance of the meeting. The expert will be better able to search for conflicts, prepare to explain their relevant expertise, and provide their initial impression.
Remember that your initial consultation is as much about setting expectations and laying out what you need from them as it is about ensuring that they are qualified to provide expert testimony in your matter. Be prepared to lay out the expert's likely role–will they be advising on the matter only, or will they provide a written expert opinion and testimony? Will you need their assistance preparing discovery or preparing to depose an opposing expert? Will they need to conduct clinical tests or other research on issues or facts pertinent to the case? By the end of the meeting, you and the expert will know what you want from one another and whether you should work together.
If you are a private litigant or a government agency with a matter that would benefit from licensed, professional, and experienced forensic psychiatry specialists, reach out to Orbit Health to discuss your options for telepsychiatry today.