How Telepsychiatry Can Help Your Health Organization Expand Its Offerings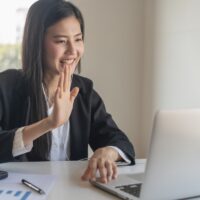 Telepsychiatry allows you to conference in qualified psychiatric specialists from around the state, country, and world in order to offer the best psychiatric care you can compile. Your practice can import experts in all fields of psychiatry, meaning that you are not limited by whoever happens to live in (or be willing to relocate to) your location. Particularly for rural and other remote hospitals, it can be challenging to recruit and retain a variety of psychiatric specialists. With the help of Orbit Health, you can bring in not only the most qualified psychiatrists to treat your patients; you can choose from just about any area of specialization.
Offer specialized services
Your healthcare organization might offer some psychiatric services, but they may be general in nature or limited to only certain specialties. With telepsychiatry, you are not limited to the specialists available in your area. Orbit Health can connect you with experts in addiction psychiatry, forensic psychiatry, geriatric psychiatry, pain management, grief counseling, neuropsychiatry, and child psychiatry, to name just a few.
Depending on the nature of your patient and their specific medical issues, you can ensure that they get the best, targeted care without having to travel to another location and without your organization having to track down a qualified specialist and fly them in. Now, any patient can get the direct, specialized care they need.
Bring in specialists to consult with and educate your interns and doctors
Conferencing in specialists can benefit more than just your patients. By giving you the opportunity to bring in specialists from any location, you can also improve the skills of your in-person medical professionals. Observing medical students, interns, and even residents can benefit from observing and conferring with specialists in particular areas of psychiatric care.
Moreover, if you have a particularly tricky case, your on-location doctors can consult with specialized experts from around the country and around the world, getting real-time feedback without having to fly someone in.
Offer services to remote or isolated patients
Telepsychiatry has the benefit of transcending physical and artificial barriers. If a patient is located in a difficult-to-reach area, such as a remote location, they might not be able to benefit from the services your hospital has to offer. Travel to and from the hospital may be too expensive or harrowing. Patients may be in quarantine due to the novel coronavirus or some other infectious disease. By implementing telepsychiatry, you can bring the services of a trained psychiatrist, under your supervision and the ambit of your organization, to a patient who is unable to reach your hospital for one reason or another.
If you are a healthcare provider who would benefit from a variety of qualified, licensed, and economical psychiatric care specialists, reach out to Orbit Health to discuss your options for telepsychiatry today.