Does Telemedicine Affect the Patient-Provider Relationship?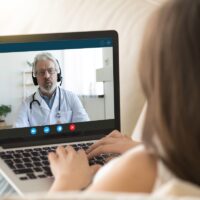 Telemedicine is an evolving practice, representing a shift in the established medical world toward embracing technology. As with any new development, there will be skeptics who believe that the old way is the best simply because the new way is new. Our telepsychiatry expert team at Orbit Health is proud to provide telepsychiatry services to all 50 states, and we look forward to expanding our service in locales across the country. A growing body of research in the medical field is proving that if there is any change in the patient-provider relationship caused by telemedicine, it is all for the better.
Higher Patient Satisfaction
Study after study has borne out the benefits of telemedicine for patients. In a 2016 study published by the American Academy of Sleep Medicine, for example, researchers found that patients were reporting significantly higher levels of satisfaction with telemedicine visits as compared to traditional in-person visits. Increased satisfaction was met with no damage to clinical effectiveness. They were receiving the same quality care, but they appreciated the telemedicine visits more.
That study and others have cited numerous reasons why patients appreciate telemedicine, including improved access to care, reduced wait times (elimination of the dreaded waiting room hour), reduced cost, and an overall improvement in the patient-provider relationship. Patients felt that physicians were more attentive in telemedicine visits, forced to pay extra attention to their patients through the videoconference technology to make up for any technological limitations. As a result, patients reported increased trust and a deeper connection with their physicians, leading to greater overall satisfaction with treatment.
A 2014 study conducted by the VA Medical Center in Albuquerque, New Mexico, for example, found that as high as 95% of patients receiving telemedicine care stated their desire to continue with telemedicine rather than return to in-person visits.
Better Clinical Effectiveness
Study after study has demonstrated that the telemedicine setting has done nothing to limit the effectiveness of physician clinical services. In fact, a recent paper published by the American College of Physicians in the Annals of Internal Medicine specifically found improved health outcomes overall with the introduction of telemedicine in the treatment of medical conditions. They pointed to sample studies of telemedicine in various settings, including treatment of older patients with diabetes and other chronic conditions, and found that telemedicine was even more effective at ensuring quality treatment.
More Patient Access
Telemedicine removes traditional barriers to access for patients in rural or otherwise hard-to-reach locations. Patients can go to a local medical office and obtain treatment from experts around the state or even around the country, rather than being limited to the general practitioners or limited specialists nearby. Patients are not forced to waste time and money on long trips to hospitals and medical practices in other cities or locales. By saving patients time, expense, and effort, more patients from all regions and all walks of life are able to get better quality care.
Patients also feel more in control of their time and effort because they can sit in a local office or their own home and observe the virtual "waiting room," through which they are given an accurate assessment of their waiting time. Patients are more satisfied with their providers because they feel that their own time is valued.
Telemedicine is a Tool, Not a Replacement
As stated by the Oregon Medical Board: Telemedicine is, simply, "the practice of medicine" through the venue of information technology. Telemedicine is medicine. It is not an entirely new creature. It is simply the provision of medicine through a new, convenient medium. Qualified medical experts can provide high-quality care to their patients, just as they always have, but without locational limitations.
Telemedicine is not meant to entirely replace in-person patient care (of course there are many injuries, illnesses, and other conditions that require in-person treatment), but rather to act as a supplement. Telemedicine allows the growth of medicine and expanded access by removing barriers between providers and patients.
If you are a healthcare provider who would benefit from a variety of dedicated, licensed, and effective psychiatric care specialists, reach out to Orbit Health to discuss your options for telepsychiatry today.