How Does Telepsychiatry Alleviate Hospital Shortages of Psychiatrists?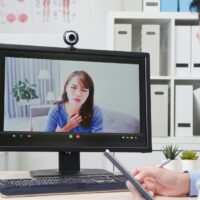 According to the U.S. Department of Health and Human Services, the standing workforce of psychiatrists is short by at least 6.4 percent to meet current needs. By 2025, the shortage could be as high as 12 percent, when comparing the country's need for psychiatrists to the availability of psychiatrists across the country. Other studies have shown that more than 40 percent of Americans who experience some form of mental illness go untreated every year, in large part due to understaffing in the specialty.
The problem is only getting worse, as the country's need for mental health care is rapidly growing while there is a concurrent growth in the shortage of outpatient and inpatient programs. When viewed regionally, the problem is even starker: A recent study found that 60 percent of all counties across the country–including 80 percent of all rural counties–do not have even a single psychiatrist. Medical professionals recognize there is a problem and have been reviewing possible solutions to this growing mental health crisis. The healthcare industry is quickly realizing that telepsychiatry is an effective means to alleviate much of the problems caused by the shortage.
Telepsychiatry for Hospitals Lacking Inpatient Behavioral Units
Many hospitals across the country simply lack the infrastructure or resources to maintain an ongoing behavioral health unit. Patients who come through the emergency room have to be transferred to other facilities for mental healthcare. Those few facilities with behavioral health units, in turn, become overcrowded; on certain days of the week (typically the weekend), there is often simply no space for additional patients.
Telepsychiatry allows every hospital to have its own inpatient behavioral healthcare services with minimal investment into new infrastructure. Rather than needing to dedicate a wing to behavioral health and recruit psychiatrists from other locations or hospitals (who already have their own busy patient load), a hospital needs only to set up an office with an internet connection and a computer. If they only need a quick evaluation, it doesn't make sense to call in an expert from out of the county; instead, they can make a quick call to a mental healthcare expert somewhere else to handle a simple evaluation and make a recommendation about continued treatment.
Handling the Surge of Patients in Inpatient Psychiatric Units
Even hospitals that do maintain their own behavioral health wings benefit from telepsychiatry. As explained, those hospitals with psychiatrists on staff are being overrun with patients due to a shortage of professionals in the industry and certain regions. With telepsychiatry, there is always a mental health professional available for a consultation, patient evaluation, or treatment. There is no need to rely solely on whoever happens to be nearby and available.
In emergency room settings, the constant availability of a qualified psychiatrist is essential. There simply isn't time to bring in a specialist from another hospital or region. Patients need immediate care, evaluation, and referral to avoid potential future problems.
Efficient Care Reduces ER Visits
With ease of access to mental healthcare professionals comes better, more regular, and more consistent care for patients. Those who have mental health issues can see a professional when they need to. Getting proper mental health care reduces the incidence of repeat visits to the emergency room, which in turn lessens the burden on everyone in the industry. Enhanced care management through better coordination and follow-up, along with the simple fact of consistent access to care, leads to improved outcomes. This saves time, energy, and money for patients and healthcare providers alike.
Flexible Schedules Makes Happier Healthcare Providers
The expanding burden on psychiatrists in the profession is harmful not only to patients; it also increases stress and burnout for healthcare professionals. Telepsychiatry allows practitioners to access patients in a much more efficient manner, limiting travel time and administrative costs, and allows them to focus on what they actually want to spend their time doing: helping patients. Happier psychiatrists are less likely to suffer burnout and are more available to care for a larger group of patients, again reducing the burden on everyone else and helping the industry, and patient health, as a whole.
If you are a healthcare provider or employer who would benefit from a variety of licensed, experienced, and dedicated psychiatric care specialists, reach out to Orbit Health to discuss your options for telepsychiatry today.