Setting up Your Home Office for Telepsychiatry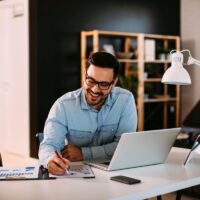 Telepsychiatry benefits more than just patients and hospitals in need of psychiatric services: For psychiatrists working to keep their practice going during the COVID-19 coronavirus pandemic, telepsychiatry provides a safe and effective means to see patients, offer consultations, and otherwise keep business as usual running without having to work from a hospital or medical office. If you are a psychiatric practitioner working from home during the coronavirus pandemic, here are a few tips to keep in mind when setting up your home office for telepsychiatry.
Organizing Your Space
Setting up your home office for telemedicine requires organizing a reasonable space for a home office and making sure you have the right equipment to get the job done. As you are putting your home office together, keep in mind that you will be sitting there for the duration of a normal workday and that you may not return to in-office practice for months to come. Do not simply throw a laptop in front of a foldout chair, expecting to be back in the office next week. Gather everything you need for your office, including books, files, a desk, a computer, and a comfortable chair–you are going to be spending a lot of time here.
It is also important to make sure that you have all the equipment necessary to keep your telemedicine work going. You will likely need the following, at a minimum:
● A proper desk. You can use an existing table, but make sure you have a chair, a desk, a mouse, a keyboard, shelves for your books and files, and anything else you will need to do all of your work from home for the time being.
● A reliable internet connection. For teleconferences, we strongly recommend a wired connection. Set up shop next to your router and plug in directly, rather than relying on Wi-Fi, for more reliable speeds and consistency.
● A computer with a microphone and a camera. You may have a laptop (plus a decent-sized monitor) or a desktop setup with an external webcam. For "light" telepsychiatry, you may even be able to get by with an iPad (or other tablet) and a stand for your video calls.
● Headset/headphones. Ideally, you would have a separate, quiet home office setup for video calls. With spouses and kids, the ideal is not always possible. Headsets with microphones are extremely useful to ensure that you can hear your patients and colleagues, and that your patients' privacy is preserved.
Maintaining a Set Schedule
One of the difficulties inherent in working from home is separating your work life from your home life. It can be difficult to get going in the morning without a commute and a separate office to clearly delineate the workday. For medical practitioners, it can be even harder to "turn off" at night after the day's work is done, knowing that your office is just a few feet away.
We advise establishing a set schedule for work hours, replicating your time at the office. Start your day whenever you would normally get to the office, take your lunch break and/or afternoon coffee break as you normally would, and call it a day when you would normally leave the office. Just because your office is in your home does not mean that your entire life is now at work.
Setting Boundaries
One of the most important and often difficult aspects of working from home is maintaining reasonable boundaries between your "work self" and your family. Boundaries are important, including both set rules and physical boundaries.
In terms of physical boundaries, it is important that you and other working family members have your own carved-out spaces for getting work done. If you and your spouse are sharing the same room and constantly talking over each other as you each host Zoom calls and teleconferences, your work is likely to suffer. Moreover, as a telepsychiatrist, the privacy of your patients is paramount. If possible, section off a space in a living room, a bedroom, or a garage to be your home office. If you have a dedicated home office already, with walls and a door, all the better. If there is only room for one closed area, and you and your spouse both work, you could alternate who has the private office space depending on who needs to make a business call throughout the day.
It is also important to set social boundaries for yourself and your family. Let your spouse and children know that when you are "on the clock," they should do their best not to disturb you. If you are having a session with a patient, they should respect both the patient's privacy and your professional environment. With children, of course, this is often easier said than done, but it is important to do your best.
If you are a healthcare provider in need of qualified, licensed, and economic mental health services for your organization, or if you are a licensed psychiatrist interested in expanding your practice to telepsychiatry, reach out to Orbit Health to discuss your options for telepsychiatry today.