Telepsychiatry: Helpful Hints on Working From Home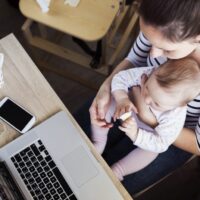 During the coronavirus pandemic, working from home has become the new normal. Many professionals across a variety of industries may decide to work from home part-time or full-time even after quarantine restrictions are limited. If you are a psychiatric practitioner working from home, it is important to maintain a healthy work-life/home-life balance, even when your work life is literally at home. Below we offer a few hints on how to keep yourself productive, and sane, while working from home.
Make Your Office Zoom-Friendly
We previously discussed tips on how to set up your home office for zoom calls and telepsychiatry sessions. Remember to set up a quiet, isolated location, preferably with a door you can close to reduce noise and interruptions from pets, children, and other home occupants. Limit distracting objects in your background. Have a proper desk, working internet, a microphone and camera, and a headset where necessary.
Invest in Comfortable Furniture, Quality Technology
You'll be spending a lot of time in your home office; it is worth a bit of investment to make it comfortable, on top of being functional. Buy a comfortable office chair, a sturdy desk, a lamp, and anything else necessary to make it a pleasant experience. Put up some pictures, plants, or artwork, so you are not simply facing a blank wall or empty room all day. Make sure to spring for high-speed internet, a good modem and router, as well as quality speakers, webcam, and headset in order to avoid technical difficulties. As an added bonus, you may be able to write off home office expenses in your taxes.
Build in Transition Time
You probably didn't think about it at the time, but your morning commute served as a transition period from home life to work life. It is important to keep the two separate. Build in time to have your coffee, read the news, listen to music, exercise, or whatever else you do in the morning. Do not simply head straight from bed to your desk. Likewise, at the end of the day, build in time for decompression activities before heading to bed.
Set Boundaries, Including "Office Hours"
On top of setting transition times, it is important to establish other boundaries between "work life" and "home life." Working from home can easily lead to work life bleeding into home life. Do your best to limit crossover. While you are on the clock, be on the clock. Avoid socializing with family and friends, limit distractions such as watching videos or reading the news. Take breaks, to be sure, but do not get distracted. Having music or other white noise in the background may help, depending on what works for you.
Perhaps more importantly, when you are off the clock, be off the clock. Unless it is unavoidable, try to put your work away at the end of the workday (whether that is 5:00, 6:00, or 7:00 p.m. for you). Take weekends or other appropriate days off. Focus on your family, your friends, and your recreational activities without periodically returning to work tasks or thoughts.
Socialize
It may seem silly, but it is important to maintain a normal non-work life. That can be especially difficult during lockdowns and pandemic times. Find time and means to continue non-work activities, even if they are just social zoom calls and phone calls. Even during work, it can help to chat periodically with coworkers over Slack, direct messaging, or email to simulate the office environment. Working from home can easily lead to feelings of isolation; limiting isolation will make you more productive and happier overall.
If you are a licensed psychiatrist interested in expanding your practice to telepsychiatry, or if you are a healthcare provider in need of experienced, licensed, and practical mental health services, reach out to Orbit Health to discuss your options for telepsychiatry today.