Ways to Evaluate a Telepsychiatry Partner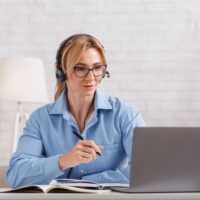 Telepsychiatry is a rapidly growing industry. By establishing and administering a telepsychiatry program, modern hospitals and medical offices expand their ability to provide comprehensive care for their patients and open the door for additional, lucrative offerings. As you seek to establish your telepsychiatry program, however, it's important to choose the qualified telepsychiatry partner that works best for you. Below, the seasoned telepsychiatry experts at Orbit Health offer a few areas in which you should evaluate a potential telepsychiatry partner.
Flexible Access for Patients and Providers
Different telepsychiatry companies have different technology. Some technology is limited to computers, while others offer telemedicine technology that is compatible with a variety of devices–tablets, smartphones, laptops, etc. It's important to work with a telepsychiatry partner whose technology allows the greatest level of access with the minimal amount of headaches for you, your staff, your vendors, outside specialists and, of course, your patients.
Regulatory Knowledge and Compliance
Different states and state medical boards have different requirements and restrictions when it comes to the practice of telemedicine. Some require practitioners to carry special licenses, some require practitioners to be located within the state, and some have extra restrictions such as requiring at least one in-person visit before practicing via telemedicine. Your telepsychiatry partner must be able to demonstrate a current understanding of the telemedicine regulatory and licensing requirements within your state so as not to open your practice up to unnecessary liability.
Security and Compliance
HIPAA restrictions are among the most important regulations healthcare providers confront on a daily basis. The security of confidential patient information is paramount. Telepsychiatry adds an additional venue for the transmission of patient data. It's extremely important that your telepsychiatry provider demonstrates both that they are fully apprised of their HIPAA and state-level data security requirements and that they are in full satisfaction of their requirements. Find out how they store patient data, how they transmit it over their servers, and what security measures are in place to avoid compliance issues or liability from patients.
Comprehensive Platform
The last thing you need is to add one more isolated program to your list of incompatible technologies. Your telepsychiatry partner should offer a program that cuts down on your administrative hurdles, not one that exacerbates them. A simple video-chat program is far from sufficient; you should be granted access to a full patient portal that makes things easy for you, your staff, and your patients.
Comprehensive Services
If you are contracting with a telepsychiatry vendor, you want to make sure that you are choosing a partner that covers all of your potential bases. You do not want to have to use one telepsychiatry program and vendor for half of your patients and find a second partner for different types of specialists. A large, well-established and well-rated program will have an established list of qualified practitioners to draw from as well as a robust program for physician recruitment and retention. They will also have ready access to support for emergency services. The benefit of telepsychiatry is access to a wide range of specialists for whatever needs are presented by your patients. When you are looking into telepsychiatry partners, ask about the clinicians they work with and the services they provide.
Collaboration and an Extension of Your Existing Practice
Your telepsychiatry partner should work to establish itself as an additional part of your existing practice. A good telepsychiatry company will offer consultation, training, and a roadmap for establishing a telepsychiatry program in your existing practice, using your existing staff and infrastructure. They should be willing and able to provide ongoing support in both technical matters and administrative challenges in administering an effective telepsychiatry program. Your telepsychiatry program should not feel like a separate, external service you contract with, but instead, a natural extension of your practice as already established.
If you are a healthcare provider or employer who would benefit from a variety of qualified, experienced, and economical psychiatric care specialists, reach out to Orbit Health to discuss your options for telepsychiatry today.