Why HIPAA Compliance Matters With Telepsychiatry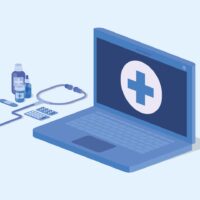 Telepsychiatry is a rapidly-growing area of practice around the country, especially in light of the COVID-19 coronavirus pandemic. While telepsychiatry is an important and useful addition for hospitals, medical offices, and other healthcare providers, it is important to enter this developing medium with a full understanding of the attendant legal and regulatory requirements. In particular, the federal Health Insurance Portability and Accountability Act (HIPAA) sets stringent requirements for healthcare providers to follow, lest they open themselves up to unnecessary liability and even risk their medical licenses. Below, the seasoned telepsychiatry experts at Orbit Health discuss the interaction between HIPAA and telepsychiatry, and why it's so important to partner with an established, comprehensive telepsychiatry company.
Telehealth Has Grown Exponentially in Light of COVID-19
Telemedicine was already a growing field before the novel coronavirus pandemic, but the health care crisis created by the virus kicked industry growth into overdrive. Everyday visits, especially visits concerning matters other than acute injuries, have decreased dramatically as patients and physicians worry that the risk of contamination outweighs the need for a visit. To alleviate this problem, states and medical boards around the country have encouraged the expansion of telehealth services through which patients can connect with providers without fear of exposure.
However, this growth has been accompanied by certain challenges. Practitioners eager to continue helping their patients may be quick to jumpstart a telemedicine practice without fully considering their options. Not all video conference technology is made equal. Practitioners who simply began to utilize readily-available services such as Zoom or Skype may have failed to account for regulatory concerns, as the nature of telemedicine requires sharing patient data over the internet. Without proper security, transmission, and storage of patient data, practitioners can open themselves up to liability.
Not All Teleconference Providers Are Secure
Widely-available video conference services such as FaceTime, Google Hangouts, and Zoom were developed primarily with ease of use and economies of scale as their foremost concerns. They were not developed with particular attention paid to privacy concerns or secure data-sharing. They were certainly not developed with specific regard to HIPAA rules concerning the sharing and storing of patient data. These programs lack special security features designed to protect patient data and limit access to video recordings, patient-provider communications, and other private information.
The video conference technology offered by specialized telepsychiatry partners such as Orbit Health is tailored for use in the medical community. It's built with strong security protocols designed to protect the conversations held during sessions as well as any patient data transmitted before, during, or after the sessions. It allows physicians to share information with patients and each other for the purposes of consultation, diagnosis, prescription, and treatment.
Moreover, our telehealth software is designed to operate within existing healthcare workflows, allowing for easy (yet secure) access to and sharing of patient information, as well as easy and secure contact with patients both during and outside of telepsychiatry sessions. Robust, secure platforms improve the overall quality of care for patients and keep medical care providers more efficient and effective.
HIPAA Requirements Have Been Relaxed but Will Come back
In an effort to get telepsychiatry up and running as quickly and widely as possible during the pandemic, many of the HIPAA restrictions around video conferencing software have been temporarily lifted. The Department of Health and Human Services (HHS) announced that it would be using its discretion to avoid enforcement actions against healthcare providers who use technology that might not be fully HIPAA-compliant in order to provide needed medical services during the COVID-19 pandemic.
This is not expected to last, however. The respite will undoubtedly be temporary, and health care providers relying on standard consumer programs like Zoom may find themselves liable for failing to adequately protect patient data. It's important to start setting up proper, HIPAA-compliant telehealth infrastructure now so that healthcare practices will not be scrambling to adjust when the full restrictions are inevitably reinstated.
If you are a healthcare provider or employer who would benefit from access to a wide range of qualified, effective psychiatric care specialists, reach out to Orbit Health to discuss your options for telepsychiatry today.