Treatment, NOT Jail!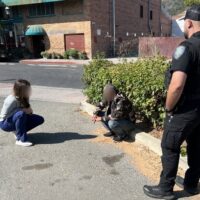 Law enforcement officers are often called to confront someone in the midst of a behavioral health crisis. In most jurisdictions, the only options are to either hospitalize or incarcerate such a person in crisis. However, on-the-spot crisis resolution or access to urgent behavioral health services is usually a more appropriate solution.
Immediate hospitalization or incarceration is an expensive and often unhelpful approach to resolving a temporary mental health crisis. In many cases, people experiencing a mental health crisis ought to be redirected to appropriate mental health and social services.  This leads to better clinical outcomes while reducing the burdensome costs of incarceration, prosecution and over-stretched hospital ERs.
Orbit Health provides on-demand mental health support during an emergency behavioral health crisis in order to decrease unnecessary hospitalizations and minimize incarcerations.
We are building a nationwide workforce of mental health responders who are available 24/7 on-demand to effectively respond to emergency situations likely to involve a mental health component.
Orbit Health is helping to help end the cycle of mass incarceration by providing ways to divert vulnerable people from incarceration and toward the help that they need to be a productive member of society.
To learn more about how to become a responder, contact Orbit Health today!