Reasons Patients Love Telepsychiatry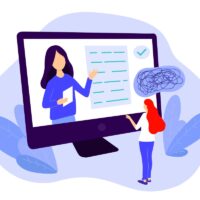 Telepsychiatry is beneficial for all healthcare providers, especially those in areas with limited access to a variety of psychiatric care specialists. Telepsychiatry is not only wonderful for medical offices, however; patients report high levels of satisfaction with telepsychiatry. Below, we discuss a few of the reasons why patients love telepsychiatry.
Convenience and Cost
One of the biggest advantages of telepsychiatry is the ability to bring psychiatric care to any location. Patients can travel to their local medical office (or even stay in their own home) to access psychiatric care, rather than needing to travel dozens or hundreds of extra miles to find an appropriate psychiatrist for their needs. Moreover, because the meeting is scheduled over video, patients are much less likely to be stuck in waiting rooms for hours on end. Patients report reduced cost and increased ease of access with telepsychiatry.
Easy Access to Specialists
Another significant benefit to telepsychiatry over in-person psychiatry is the availability of experts with specialized experience, regardless of location. Particularly in rural areas, patients may be limited to general practitioners. Patients who have specific, specialized issues might not have easy access to someone with specialized training or qualifications in, for example, grief counseling, post-traumatic stress disorder, anxiety disorders, addiction, or other particular matters.
With telepsychiatry, patients can speak directly with experts trained in the precise area of psychiatry that serves them best, without regard to location. Depending on the state and the practitioner, they may be able to obtain treatment from a psychiatrist anywhere within the state or even located elsewhere in the country. Rather than a generalized approach, patients can get the individualized diagnoses and treatment that they need.
Comfort Levels
While some patients express reticence to a new venue for psychiatric care, many other patients find the distance created by telemedicine comforting. Many patients find it difficult to express themselves to psychiatric care experts in person, given the level of vulnerability mental health treatment requires to be effective. These patients often find the telepsychiatry setting to be much less intimidating or embarrassing than in-person sessions, allowing them the freedom to open up and obtain more effective care.
No Risk of Infection from COVID-19, Other Viruses
The COVID-19 coronavirus pandemic wreaked havoc on the infrastructure of just about every industry, and medicine was no different. Patients were afraid to visit the doctor for anything less than an emergency. For many patients, the risk of exposure to the virus was too great to attend in-person sessions for most medical issues, including mental health concerns. Telepsychiatry allows for personal, individualized treatment without risking exposure to COVID-19 or other transmittable ailments that can circulate in a hospital or medical office.
Even when the pandemic abates, many patients find comfort knowing they are not exposing themselves unnecessarily to contagions. Patients who are particularly anxious about the spread of germs are especially grateful for the sterile environment provided by a telemedicine session.
Full-Service
While states vary on the particular requirements for and limitations on the practice of telemedicine, in most locations, telepsychiatrists can offer all services for patients without needing an in-person visit. That includes consultation, diagnosis, treatment, and even prescription. Patients need not see a second professional just to get a prescription their treating psychiatrist already knows they require. Telepsychiatrists can interface with local medical officers and healthcare providers to ensure that patients get the medication they need.
Proven Effectiveness
Several recent studies have conclusively eliminated any preexisting concerns that telepsychiatry is any less effective than in-person psychiatric care. Patients, psychiatrists, and other professionals have reported high levels of patient satisfaction with telepsychiatry.
In fact, many patients have reported higher levels of satisfaction with telemedicine over in-person care. Patients report, accurately or otherwise, that care providers sometimes appear more attentive on-screen than in person. When patients feel more seen, they grow more trust and connection with their psychiatrist, and the psychiatrist, in turn, is able to provide more informed care.
If you are a healthcare provider who would benefit from a variety of licensed, qualified, professional psychiatric care specialists, reach out to Orbit Health to discuss your options for telepsychiatry today.