How Telepsychiatry Can Alleviate Burnout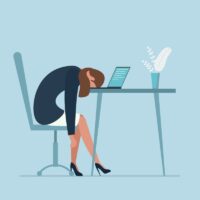 Clinician burnout is a very real and very prevalent problem. Finding the right balance between work and private life is a constant struggle for many physicians. Many clinicians experience mental health issues themselves because of burnout, leading to unhealthy habits, harmful coping mechanisms, and limited professional satisfaction. While there are any number of contributing factors to clinician burnout, and there is certainly no one-size-fits-all solution, telepsychiatry offers a means to reduce many of the elements that lead to burnout. Continue reading for a discussion of some of the ways in which telepsychiatry can alleviate physician burnout, and reach out to Orbit Health to learn how to incorporate telepsychiatry into your practice.
What is Clinician Burnout?
Physician burnout is a psychological syndrome affecting those in the medical practice, characterized by several symptoms including heightened emotional exhaustion, increased cynicism, and a decreased sense of fulfillment from work. Many factors contribute to clinician burnout, including rigorous career demands, limited personal time, lack of resources, limited control over schedule (such as constantly being on-call), emphasis on productivity over the quality of care, and an overabundance of administrative hassles.
Physicians experiencing burnout are likely to be more angry, irritable, and impatient. They are likely to experience decreased productivity and reduced quality of care due to their unpleasant mental state. They may leave clinical practice or turn to unhealthy coping mechanisms. Burnout is associated with an increased risk of medical errors and an overall decrease in patient satisfaction.
Reducing Administrative Hassles, Increasing Control Over Schedule
Physician burnout is often connected to hassles that take physicians away from patient care and force them to spend more time on administrative tasks. Tasks such as commuting to and from the office add hours to the workday with little payoff, as do dealing with complex insurance paperwork, billing concerns, and other non-care tasks. Relatedly, physician burnout is closely tied to complaints about physicians' lack of control over their own schedule. Physicians who feel tied to their office or who must return at odd hours lose out on additional free time and never feel truly at home.
Telepsychiatry allows clinicians to practice from their home offices, eliminating commutes and freeing up time for sleep, self-care, family time, socializing, exercise, and recreational activities. Allowing psychiatrists to skip the hassle and go right to patient care when on the clock, and then return to actual non-work time afterward, has been shown to significantly reduce burnout. Psychiatrists are also able to use the additional time saved by lack of commute to handle burdensome administrative tasks, leaving them free to focus on patients and their personal lives.
Moreover, by utilizing a telepsychiatry provider such as Orbit Health, clinicians can rely on information technology specialists to confront and resolve technological and administrative concerns. Our staff handles the administrative burdens while clinicians can focus on patient care.
Reducing the Risks of Practice
Psychiatry is not a risk-free business. Agitated or violent patients can pose an actual, physical danger to clinicians, especially in emergency care settings. Moreover, in-person sessions carry the risk of spreading viruses, of particular concern during the COVID-19 pandemic. Telepsychiatry removes these risks inherent with in-person medical care, allowing psychiatrists to focus on treatment and care without danger.
Additionally, telepsychiatry allows for practitioners to serve as backup for in-person providers fielding patients in crisis prevention and emergency department settings. Remote psychiatrists can step in to ease their burden, reducing the risk of burnout even for the in-person practitioners.
Targeted Practice and Engagement
Telepsychiatry also allows psychiatrists to focus on specialties that they find personally and professionally engaging. By opening up the patient base to the entire state (or, indeed, other states), psychiatrists can market themselves as experts in a particular field in which they have spent time studying, training, and practicing. Telepsychiatry removes the physical barrier of having to travel to far-off areas to treat specific patients in need, giving psychiatrists unprecedented control over their careers and practice.
If you are a psychiatrist looking to expand into telepsychiatry, or a healthcare provider who would benefit from seasoned, experienced, and professional psychiatric care specialists, reach out to Orbit Health to discuss your options for telepsychiatry today.