How Telepsychiatry is a Valuable Employee Benefit in Your Company's Health Package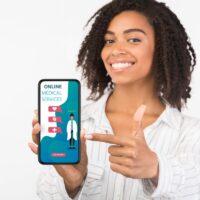 According to a recent survey from the National Business Group on Health, large companies around the country increasingly include telemedicine services as part of employee benefit packages. The survey found that a group of 148 employers across various industries is now offering telemedicine coverage to over 15 million employees and their dependents. Over half of those surveyed specifically said they plan to include tele-behavioral health services such as psychiatry and therapy in benefits packages. Below, we discuss the advantages of telepsychiatry as an employee benefit, especially in the current climate.
Keeping Employees Healthy and Productive During the Pandemic
With the coronavirus pandemic ongoing and showing little sign of slowing, businesses around the country are gradually realizing that we are now experiencing a new reality. The work-from-home culture is here to stay. In some industries, such as the tech giants in Silicon Valley, employers have come to realize the cost-effectiveness of remote working and plan to continue even after shelter-in-place restrictions are lifted. For others, quarantine restrictions are expected at least until next year.
While many employers are finding that working from home can actually help worker productivity rather than inhibit it, the nature of the pandemic and quarantine generally do pose a threat to the mental health of employees around the country. Workers suffering from depression, anxiety, and isolation are not going to perform as well at their jobs. Individuals around the country are realizing more and more that they can benefit from psychiatric care and therapy during these difficult times, but many are faced with the dual issues of prohibitive cost and concerns over quarantine protocols.
Employer-backed telepsychiatry offers the perfect solution to both issues. With telepsychiatry, your employees will be able to get treatment from qualified, licensed professionals anywhere around the country from the comfort of their own homes (or from isolated local medical offices). Telepsychiatry improves employee satisfaction, health, and productivity.
Telemedicine Reduces Employer Healthcare Costs
Businesses and economists are reporting that telemedicine, including telepsychiatry, is a cost-cutting alternative to traditional medicine. Physicians typically charge less for a telephone call than an in-person visit, and the number of office visits is reduced. Experts estimate that switching to telemedicine can save employers as much as 25 percent on employee medical costs. For self-insured companies, those savings go directly to the bottom line. Telemedicine also allows workers to obtain treatment more easily when they need it, rather than putting it off until a serious issue arises. Emergency room treatment is likely to cost much more than a few preventative doctor appointments.
In terms of both cost-savings and worker productivity, telepsychiatry allows workers to skip the waiting room. Employees can call in when the doctor is actually free and continue to work in the meantime. Telepsychiatry is far more efficient than having a worker take half a day off of work to travel to the doctor, sit in a waiting room for close to two hours (the average time for an appointment due to wait time), and then travel back to the office. Telepsychiatry saves everyone involved time, energy, and money.
Offer Competitive Benefits to Employee Prospects
Offering tele-psychiatric care as a benefit is also an extremely attractive incentive for prospective employees to work for your company. According to a recent survey, over a third of workers indicated that healthcare is the most important benefit they consider when thinking about switching jobs, and over 75 percent indicate that healthcare is a top-three priority when considering workplace benefits. For all the reasons discussed above, workers find telepsychiatry coverage to be an extremely valuable benefit and a strong pull toward a given employer.
If you are a healthcare provider or employer who would benefit from a variety of qualified, licensed, and economical psychiatric care specialists, reach out to Orbit Health to discuss your options for telepsychiatry today.